ABOUT Crystal Illumination Art™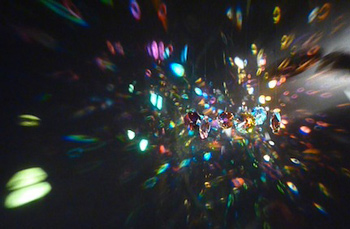 Immerse yourself in a celestial vision – an ever-changing, ever-evolving kaleidoscope of mystical color, a soothing yet spectacular display of light, colors and shifting patterns. This is the world created by artist Gail R. Mitchell as she manipulates the interplay of light and color through strategically placed crystals. It is more than something beautiful to look at – it is a captivating and inspirational experience.
Crystal Illumination Art
is a celebration of the transformative qualities of light and color. This interactive art is a form of energy. As we know, people have a magnetic attraction to light, and light serves as a natural force that heals and nourishes our physical, mental, emotional and spiritual selves. When we experience a
Crystal Illumination Art
installation we are transported into an inner experience of wholeness, oneness and wonder.



The magic of refractory light bouncing off prisms of crystals that titillates the sensory experience- This is the visual dimension which captivates one when viewing Gail R Mitchell's Crystal Illumination Art, a new fantastic concept in lighting and art. Ms. Mitchell, who also creates unique ceramics, has spent the past years perfecting the concept of Crystal Illumination Art: suspended prisms of crystals that rotate in space to create a colorful, aesthetically pleasing, kaleidoscopic effect. The result is a rich, visually soothing experience, unlike any other, one which transcends ordinary lighting.





Ms Mitchell through her artistic gifts, has elevated Crystal Illumination Art to high art- enveloping the viewer with a soothing, healing, magical quality, that transports us to a world of beauty, peace and tranquility. She affords us these much needed qualities to counteract the stress and anxiety of our unsettled post modern-age.



H. Lloyd Weston
International Artist - Author

Studies have shown that light and color affect our physiology, our feelings, even our behavior. Light and color have proven beneficial biological and psychological effects on all living things and profoundly impact our lives, our health and our emotional well-being each day. Every color in the spectrum elicits its own unique emotional response.
Crystal Illumination Art
installations can be set up anywhere you wish to create a unique atmosphere … residences, retail or public spaces, restaurants, clubs, spas, healing environments, special events and much more.

Crystal Illumination Art will capture your clientele, draw them in and let them escape into a fluid, fantastical world - where light, color and sound enhance their every sensory experience. Your guests will be surrounded and transported by the explosive crystal light images that envelop them as it instantly transforms your space into a magical place that can mesmerize, soothe, exhilarate, entertain.

Event planners incorporate Crystal Illumination Art to create a one-of-a-kind enhancement to any environment or special event whether they are public or private. These are just some of the many ways that spaces can be transformed through the spectacular effects of Crystal Illumination Art. The ideas are limitless:


Fashion Shows

Hotels

Museums/Galleries

Atriums - Lobbies - Public Spaces - Restaurants - Clubs

Openings/Fundraising & Special Events

Weddings, Bar/Bat Mitzvahs

Trade Shows

Theatrical & Dance Productions Spas

Installations can be set up anywhere you wish to create a unique atmosphere. They are custom designed to compliment your environment and needs. Depending on the atmosphere you are trying to create, they can range from a simple installation with one or two lights and 40-50 crystals to larger configurations using hundreds, even thousands of crystals with dramatic lighting effects.

Collaboration with your lighting directors on large theatrical event productions is essential.

I am delighted to share this unique experiential art concept with you. Art is a universal language. It is my aspiration to continue lighting the way for people to experience this transformative, sensory art experience.
Contact us to allow Gail and her creative team of prismatic artists to design a custom Crystal Illumination Art™ installation just for you.
| | | |
| --- | --- | --- |
| | | |